Gum Carrageenan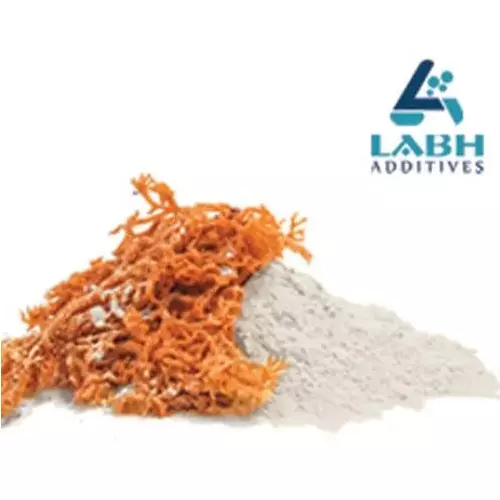 Labh Additives is the Manufacturer, Supplier and Exporter of Gum Carrageenan

Gum Carrageenan is an additive used to preserve, emulsify and thicken foods and drinks. It's a natural additive that comes from red seaweed (also called Irish moss). It is found in yogurt, nut milks, and meat products.

Gum Carrageenan's are broadly used in the food industry, for their thickening, gelling and stabilizing properties. Due to their strong binding to food proteins, they are mainly applicable in dairy and meat products. Carrageenan are considered water-soluble dietary fibres. Carrageenan, when extracted from the appropriate seaweed source, is a yellow brown to white coloured, coarse to fine powder that is odourless and tasteless.


Applications of Gum CARRAGEENAN
Gum Carrageenan (E407):
Gum Carrageenan is used as gelling agent, emulsifier, suspending agent and texturant. Carrageenan's are an excellent alternative to animal-based thickeners such as gelatine. They are used in foods such as Baked Goods, Frozen Dough, Ice Cream, Yogurt, Cheese or Soy Milk to thicken and emulsify.

Gum Carrageenan's are used in various food applications:
Dairy products like sweetened Condensed Milk, Yogurts, Flavoured Milk, Cream, Ice Cream, Desserts, Food Industries such as Salad Dressings, Sauces, Toothpastes, Meat Products, etc.

Dairy Products: Sweetened Condensed Milk, Yogurts, Flavoured Milk, Milk Shakes & Instant Breakfast Powders, Cooked Milk Puddings, Instant Milk Puddings; Whipped Dessert Mix, Frozen Whipped Topping, Concentrated Milk, Liquid Coffee Whiteners.

Bakery Products: Bread, Sweet Dough Products.

Water Gels: Dessert Gels, Cold-Water-Soluble Dessert Gels.

Cheese: Cheese Products, Cold Process, Pasteurization Process.

Other Uses: Gum Carrageenan has been suggested for a number of additional uses, including incorporation in various fountain products, dressings & relishes, as a coating for frozen products & as a batter mix ingredient. Most such uses represent novel applications for the stabilizer & do not constitute important industrial outlets.

Apart from food applications, Carrageenan can act as a good gelling agent for various industrial and household applications as well. Air-Freshener Gel, Tooth Paste, Colour Transfer Painting, Coating etc. are the examples.